Who are we?
We are a sailing-addicted, family-run company with more than 20 years of experience. We specialise in sailing courses, regatta seminars and chartering performance sailing yachts.
We started one of the first Croatian one-design fleets – with ten cruiser-racer Beneteau Firsts 35 – ideal for leisure and competitive sailing. We organised numerous regattas, championships, and regatta seminars with top Croatian and international sailors. Recently we added a brand new Dehler 38 SQ to our fleet for the RYA courses.
We also offer our fleet's flagship, large and luxury Beneteau Oceanis 51.1 First – the only First line edition model available for charter in the world.
Our experienced technical team guarantees excellent boat maintenance and keeps the fleet in top condition. We provide our clients with the highest possible standard of service from the moment they book our yacht until they return satisfied from a pleasant vacation or sporting event.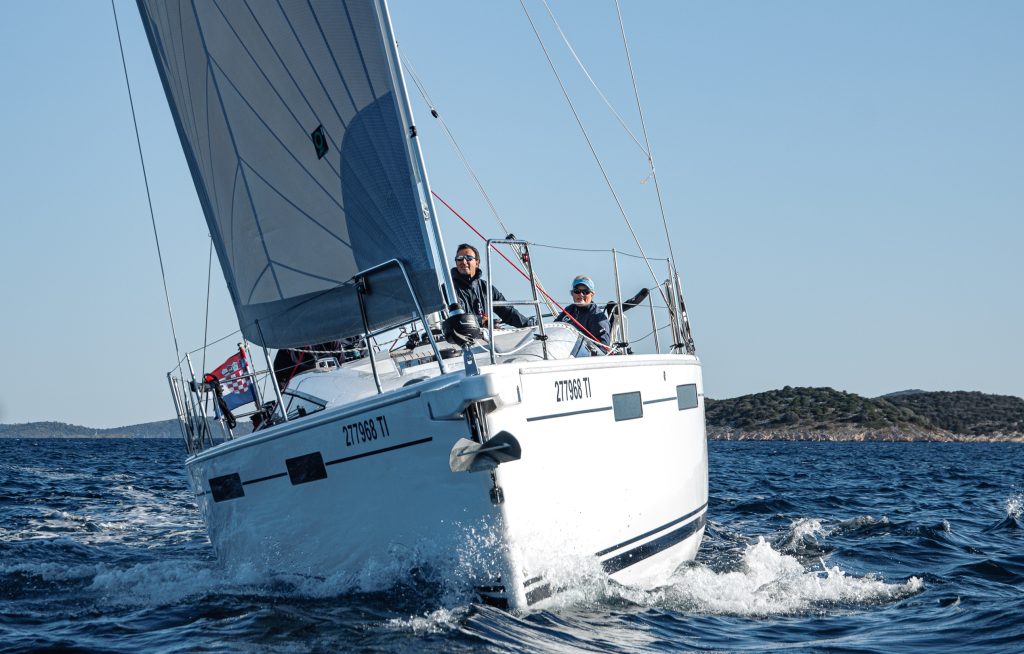 Petra Zuber-Blažinčić, Co-founder and CEO
Petra is the company's co-founder and CEO. She's in charge of booking, marketing, design and sailing school. She graduated from the Faculty of Architecture at the University of Zagreb. Still, she moved to the coastline to pursue her passion for sailing. She participates in many regattas and has led a female sailing team for over ten years. Fluent in English, German and Italian, she enjoys contacting clients and organising their holiday.
Davor Blažinčić, Co-founder and RYA Principal
Davor is the company's co-founder and Principal of our RYA Training Centre. He's in charge of the technical side of the business. He ran a couple of successful companies before fully dedicating himself to sailing. He always strives to provide the highest quality service to the clients and the best quality equipment for the yachts. He always knows what he wants and is determined to achieve his goals. He also enjoys caring for and upgrading the yachts and keeping everything in shipshape.
Nikša Pirjak – Nike, Base Manager
Nikša is responsible for the base and our fleet. He is highly professional and skilled and contributes significantly to our image of a friendly family-run business with the highest level of service tailored to the client's needs. Never tired and always motivated, he is very active in the local community of Jezera. He participates in the organisation of cultural events and traditional sailing boat regattas. He also enjoys in a good soccer game with his team.
Kažimir Bračanov – Kažo, Technical Support
Kažo is hardworking and a highly respectable technician who has been our significant reinforcement since 2017. He takes care of every technical detail on the boats with great attention and care. He's friendly, helpful and efficient, and he's a guy who can deal with every possible boat problem with a wide smile and excellent humour.
Marina Raste, Booking and Marketing
To put it simply, Marina is – our sunshine. A company's good spirit. She takes care of booking and marketing. She also takes care of everything and everybody – clients, help workers and the rest of the team. And she always does it with the friendliest smile and a positive attitude – no matter how hard it gets. She has a degree in Economy, is originally from Rijeka, and married in Jezera – a place she now calls home and the most beautiful village in Croatia. She's the person to go to if you have any questions, doubts, concerns or need help.
Tomislav Bradić – Tom, Chief Instructor for RYA courses
Tom is RYA Yachtmaster Instructor, RYA Theory Instructor and RYA VHF Instructor/Assessor. He's a Chief Instructor for RYA courses at the Center of Sailing. An ex-journalist and Editor in Chief of the most prominent Croatian job site, he set sail more than ten years ago and hasn't stopped sailing since. Sailing became his way of life. He sailed in the United Kingdom, France, Spain – Canaries and throughout the Adriatic sea. He enjoys teaching sailing and helping students achieve their sailing goals.